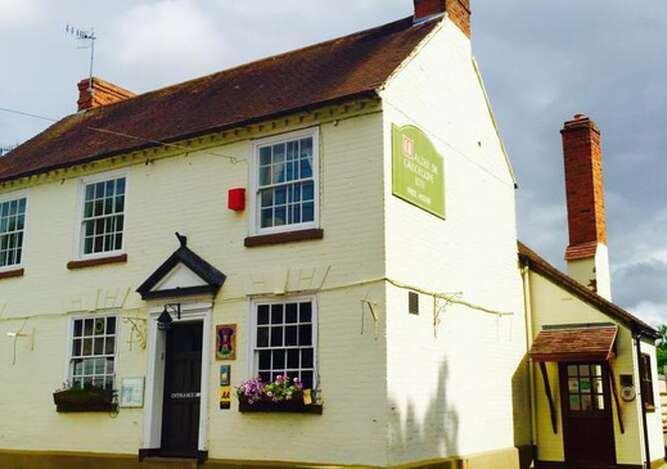 Beers and Real Ale
The Inn is renowned for serving traditionally brewed and cellared British beers. Thirsty customers order their pints which are hand-pumped from the barrel to the glass –not much change then in nearly a hundred years of dispensing beer in an English public house.Regular beer on hand pump –Timothy Taylor's Landlord. One or two more beers are featured as guest beers chosen from brweries the length and breadth of Britain.
Landlord
from
Timothy Taylor
A Classic Strong Pale Ale, Landlord has won more awards nationally than any other beer:This includes four times as Champion at the Brewers'International Exhibition and four times as CAMRs beer of the year.
Wye Valley BitterABV3.7%
from
Wye Valley Brewery
Chosen to be a regular beer on the Bar by the locals who voted for it at the Inn's Beer Election, last held here in May 2014.
Brewed by the award-winning Wye Valley Brewery now situated in Stoke Lacy near Bromyard, Herefordshire, this particular brew's aroma gives little hint of the bitter hoppiness that follows right through to the aftertaste.
Guest Ales at the Walter de Cantelupe
Our Guest Ales frequently change and come from near and far.
Many sourced directly from the breweries, be it a small micro or a regional company.
Belfast Blonde
–4.3%
College Green Brewery, Belfast
A wholly natural blonde beer with a clean and refreshing character, derived from the use of Lager Malt along with a small proportion of maize. The Mixture of continental and native varities of late and early addition hops please both the nasal senses and the taste buds.
Headless Dog
–4.3%
College Green Brewery, Belfast
Molly's Chocolate Stout
–4.2%
College Green Brewery, Belfast
A dark chocolate coloured beer as the name suggests with a full bodies character showing through with the use of whole roasted oats. A coffee taste is clearly apparent from the use of chocolate malt.
Copper Fox
by
Mayfields Brewery of Leominster
, HerefordshireA copper-coloured ale with fresh malt body and lots of hop character. Winning a position on the Bar after receiving an overwhelming vote of confidence at the Inn's most recent
Beer Election
*, this well-balanced authentic 'bitter'has established a local following this side of the county border. Delivered directly from the brewery and, even sometimes, by the brewer himself. Other brews from Mayfields will feature from time to time as guest beers. * Beer Election –See
'Events'
Festival Pride
from the
Festival Brewery, Cheltenham
Classic English best bitter using German Northern Brewer and Willamette hops;giving a hint of berry with a fruity and herbal aroma. Abv. 4.1%
Guest Ales…gone but not forgotten!
Prince's Pride
a seasonal beer by
Wye Valley Brewery
Part of the Herefordshire History Series, the imagery depicts Owen Glendower who is buried in Herefordshire. A golden ale, with a hint of toffee and a late hop finish.
Shropshire Lad
by
Wood's
First brewed in 1996 to commemorate the century of Housman's Shropshire Lad poems. It quickly became Wood's best seller. A strong well rounded bitter drawing from a fine blend of selected English malted barley, traditional English Fuggles and Golding hops.
Black Pear
by
Malvern Hills Brewery
A premium beer, golden in colour with a combination of hops giving a pleasant bitter finish. Brewer and owner, Julian Hawthornthwaite, is proud to craft imaginative and distinctive beers using hops sourced from a local hop merchant.
West Midlands Beer of the Year 2005. Winner –West Midlands Best Bitter 2007. Winner –West Midlands Best Bitter 2007.
Past Christmas ales the Inn has served have been as follows:
'Christmas Jingle', 4.0% Abv from Mayfields Brewery
. It stood in for Copper Fox, the Elected Beer, again from Mayfield's, for the Festive Season.
Christmas Jingle
by
Mayfields Brewery of Leominster
, Herefordshire. "A delicious smooth ruby Christmas Ale, with plenty of spice and fruit hop character, balanced with lovely malt flavours 4.0% ABV."Mayfields are a small family brewery based in Rural Herefordshire, producing traditional Ales and beers, using the best ingredients available.
'Buzzard'4.8 abv, a dark ale from Cotleigh Brewery
–followed closely by
'Snowy'at 5.0% abv from Cotleigh Brewery
. We also might find weather will turn appropriately for that beer but don't worry…the log fire will be well stoked!